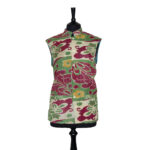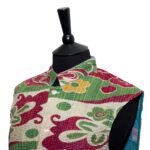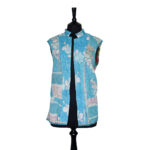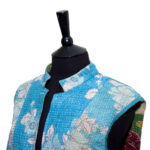 Kantha Waistcoat – Red and Green pattern. Reverse Turquoise
£28
Small. Dark red, avocado green and stone beige pattern. Reverse turquoise background with off white flower and leaf design.
Kantha waistcoats are made from recycled saris that are joined together by a running stitch called Kantha. Each piece is unique, with a different design and colours on each side. As the material is vintage, sometimes there are small blemishes and even the odd patch.
100% cotton and machine washable at 30c.
Chest 100 cms (39.5 ins) when closed.
In stock