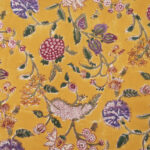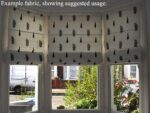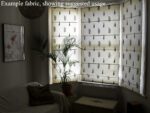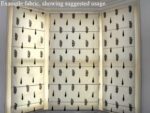 Cotton Fabric 50 – John Flower on Saffron
£16
A masterpiece of hand block printing, using 9 colours over a large repeat area onto unbleached voile. Would suit any room or style, especially lending itself to a traditional British drawing room or country cottage look. Will make wonderful blinds or curtains. Line the curtains to keep out the light whilst creating a softer look or leave unlined for a floatier feel. Can also be used for dress or shirting.
We also stock this design in voile on a blue background CF47, or a white background CF54 and on unbleached poplin CF48.
Please note: We can always take orders for fabric if we don't have enough in stock. Please contact Camilla for further details.
100% cotton. Machine washable.
Width – 110 cm (43.5 inches)
(1 metre = 1.09 yards)
Product information:
Repeat size: 22cm/8.5"width; 32cm/12.5" length
Fabric weight: 57g/m
Size of largest flower – 6x6cm/2.5×2.5"
Requests for samples: we are happy to send up to five samples free of charge after which a charge of £2.00/sample will be incurred.
£16 per metre / £16 per yard
In stock