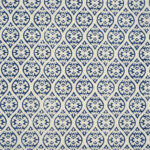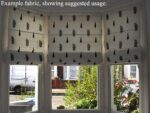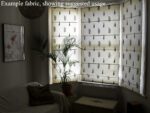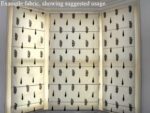 Cotton Fabric 35 – Navy Blue and White Teardrop design
£19
Hand block printed navy blue teardrop motif on unbleached poplin. Would suit any room in the house to create a traditional British drawing room or contemporary feel. Wonderful for curtains and cushion covers and due to the neutral background colour would brighten up any dark room.
Note: Please email us before placing an order for fabric as our stock levels fluctuate.  We can always order in fabric if we do not hold enough stock.
We regret that cannot refund customers once fabric has been cut to order.
100% cotton. Machine washable.
Width 155 cms. (61 ins) Machine washable
(1 metre = 1.09 yards)
Product information:
Repeat size: 6.5cm/2.5" width; 10.5cm/4" length
Fabric weight: 270g/m
Motif size – 5 x 7.5cm/2×2.75"
CF35
Requests for samples : we are happy to send up to five samples free of charge after which a charge of £2.00/sample will be incurred.
£19 per metre / £19 per yard
In stock