Tie and Dye Clothing
Posted on Wednesday, March 8th, 2017 at 10:50 am
Category :
Uncategorised
I first came upon tie dyed clothes in the 1960s when it was fashionable and we took to dyeing clothes in the bath and tying knots to get wonderful patterns. On visiting Jodhpur, tie and dye took on another meaning. Beautiful tie and dye designs on cotton, chiffon or silk are made into Sarees, Jodhpuri coats, Rajasthani dresses, Salwar-kameez sets, yardages for turbans, etc.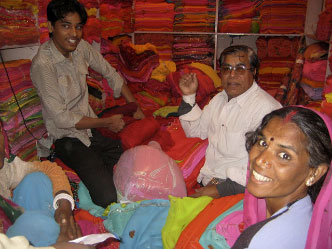 Rajasthan is famous for the tie and dye craft, Jodhpur being one of the centres. The tie and dye process is also called Bandhej or Bandhani. The art of Bandhej is highly skilled. The technique involves dyeing a fabric, which is tied tightly with a thread at several points and so produces a variety of patterns. Tiny knots create the small dots in Bandhani, while repetitive loops of tied threads create wavy patterns in designs called Leheriya. When the tied up piece of fabric is put in a dye bath, the entire piece takes up the colour except for the tied up bits, which when unravelled are white against the coloured background. The variety of colours and designs are enormous.
In Bandhani different colours have different meanings – for example red represents a bride while yellow can mean a woman has had a child recently.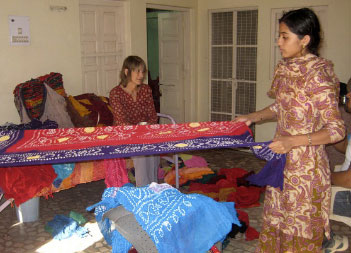 In the market square in the centre of Jodhpur many stalls sell Bandhini – fortunately you don't have to go to Jodhpur to see good tie and dye work, just come to my showroom in south London where I have a wonderful collection; or take a look on my website https://www.camillacostello.co.uk/scarves/