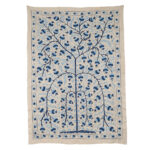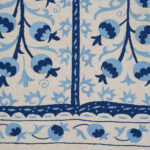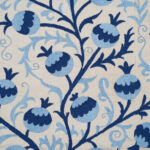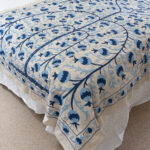 Suzani Vintage Textile – Sky Blue and Deep Blue Tree of Life Design
£290
Beautifully hand embroidered Suzani throw in a traditional design from Uzbekistan. Can be used as a bedspread, throw or table cover. Dry clean only.
Suzani is a type of embroidered and decorative tribal textile made in Tajikistan, Uzbekistan, Kazakhstan and other Central Asian countries. In the 19th Century Uzbek women made beautiful embroidered hangings for their dowries to present to their husband on their wedding day. Over the last 30 years there has been a revival of many traditional artisan techniques and now Uzbek woman are making these beautiful textiles again. An enormous amount of time and care goes into making each piece as can be seen by the intricate stitching and pattern making and it is common to stitch two or more panels together to make a bigger cloth. Popular motifs include vines, leaves, pomegranates and birds.
N.B. Matching Suzani cushion covers are for sale in the cushion covers section, please click here to view them.
147 cm x 207 cm ( 57.87 inches x 81.5 inches)
In stock