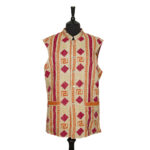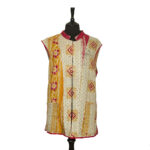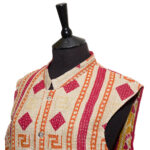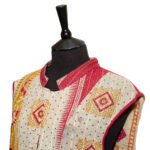 Kantha Waistcoat – Beige Red and Orange. Reverse Red and Off White
£28
Large. Light beige background with pillar box red and orange. Reverse same colour red background with dark ochre and light beige pattern.
Kantha waistcoats are made from recycled saris that are joined together by a running stitch called Kantha. Each piece is unique, with a different design and colours on each side. As the material is vintage, sometimes there are small blemishes and even the odd patch.
100% cotton and machine washable at 30c.
Chest 109cm (43 ins) when closed.
In stock