Kantha Quilt
Kantha or "kontha" is derived from a Sanskrit word, which means rags. It is traditionally used to make simple quilts, blankets, for infants and covers of household accessories. Kantha quilt, or throw is unique in its colour and design. Each one is made from recycled saris stitched together with a running stitch called kantha. Women in West Bengal used their old saris and layered them with a kantha stitch to make a blanket, throw or bedspread.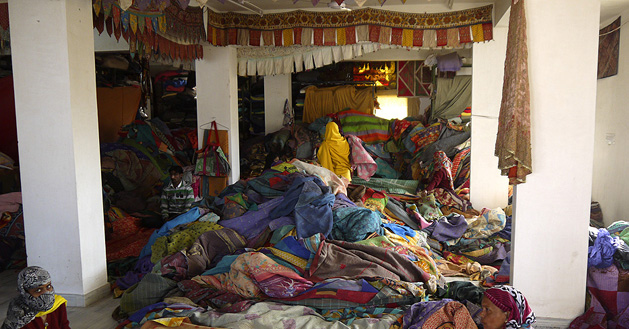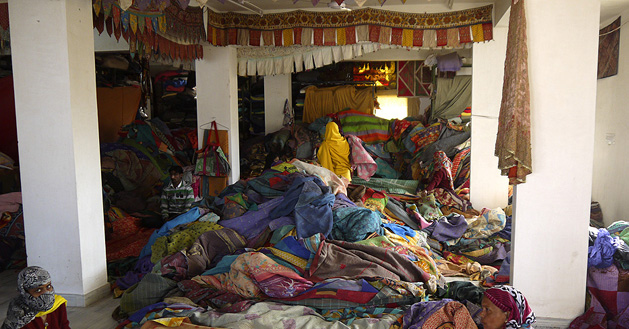 Kantha quilting has great history and has been mentioned in books written 500 years ago. Krishnadas Kaviraj, an eminent epic poet of Bengal mentioned it in his work, "Sri Sri Chaitanya Charitamrita".
The roots go back to the times of Gautama Buddha who used to cover himself with garments made from discarded rags that were patched and sewn together, to those displayed in shrines shoves away the evil spirit; it has earned a permanent place and value in the artistic tradition of Bengal.
Its origins lie in Bangladesh but has subsequently spread over India with its intricate patterns. Also known as "Nakshikantha" this is one of the oldest forms of handicrafts practiced in India.
There are seven types of kantha quilt that can be found in West Bengal and this unique form of running stitch is the simplest as well as the oldest form of quilt that were designed in India.
The worn out, discarded cotton sarees or other pieces of cloth are piled one over the other. They are then layered on the ground and smoothed to avoid any fold or crease in between. Once complete it is decorated with intricate designs. The patterns are first drawn on the cloth and the border is outlined with running stitches. The designs are then filled in the central motif is first completed and then followed by the corner designs. The designs are mainly made with threads of vibrant colour as the background often remains dull. Stitching the design on the kantha is a laborious task and is one of the reasons for the high price of good vintage kantha quilts.
Kantha Jackets – Reversible Kantha stitched jacket available in Long, Short and Classic designs – from £115.00
Kantha Throws – Reversible Kantha stitched throw available from £125.00
Kantha Scarves – Reversible Kantha stitched scarf available from £18.00

Kantha Bags – Available in Small, Large and Carry size – from £20.00
Click here to return to the main Homepage.